What Australian Restaurants Will Need To Survive COVID-19?
The hospitality industry is in crisis. Under the new measures that came into effect on Monday, March 23, cafes and restaurants will be able to operate, but only to offer takeaway and delivery services.
Although this measure wasn't a surprise to most, it hasn't been the answer for everyone and unfortunately it hasn't stopped thousands of businesses across Australia closing their doors indefinitely, or as some are foreshadowing, for good.
Will Australian Restaurants Survive COVID-19?
There's no doubt that Australian restaurants are struggling due to COVID-19. There are still ways that restaurants are able to stay open and survive during this uncertain time. Read below for the ways our hospitality industry will survive and discover some tips to add to your digital marketing strategy to future proof your business.
Delivery and takeaway services
While a lot of restaurants are adapting quickly to the changes and are now offering takeaway and delivery services, it's still having a massive impact on revenue and staff. This week's news of MyGov services crashing and Centrelink queues stretching out the door is testament to the impact that these measures have caused.
But for now, changing food services to delivery and takeaway is one essential revenue stream to help restaurants keep their doors open. Fortunately, there's already a solid network of food delivery apps and services that restaurants can take advantage of. For others, it also means that they can have as many of their employees stay in a job as possible, with some staff transitioning to delivery drivers.
Government assistance for restaurants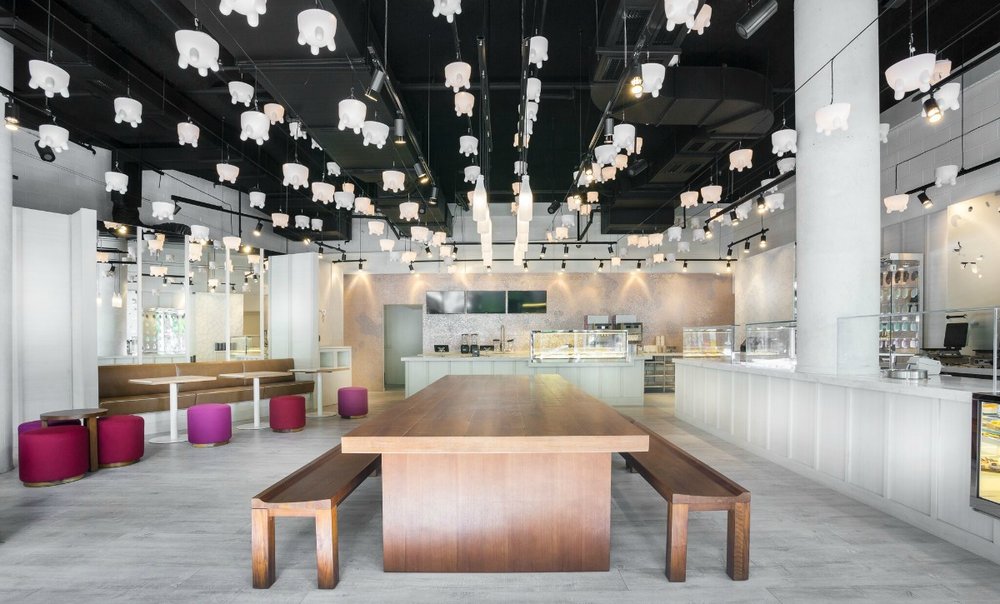 The government's announcement of a $66 billion assistance package does offer a lifeline for a lot of small to medium sized businesses. With the new package comes support like the Queensland COVID-19 jobs support loan, which is offering low interest loans of up to $250,000 for carry on finance with an initial 12-month interest free period for businesses to retain staff. The government also announced that small businesses with a turnover under $50 million can receive a tax-free cash payment up to $100,000, with a minimum payment of $20,000 for eligible companies. The payments will be delivered by the Tax Office as a credit on activity statements from late April.
So there's some good news for restaurants amidst all the doom and gloom, and it may help keep some businesses alive during this uncertain time. But what else can restaurants do to survive?
Marketing ideas for restaurants during the shutdown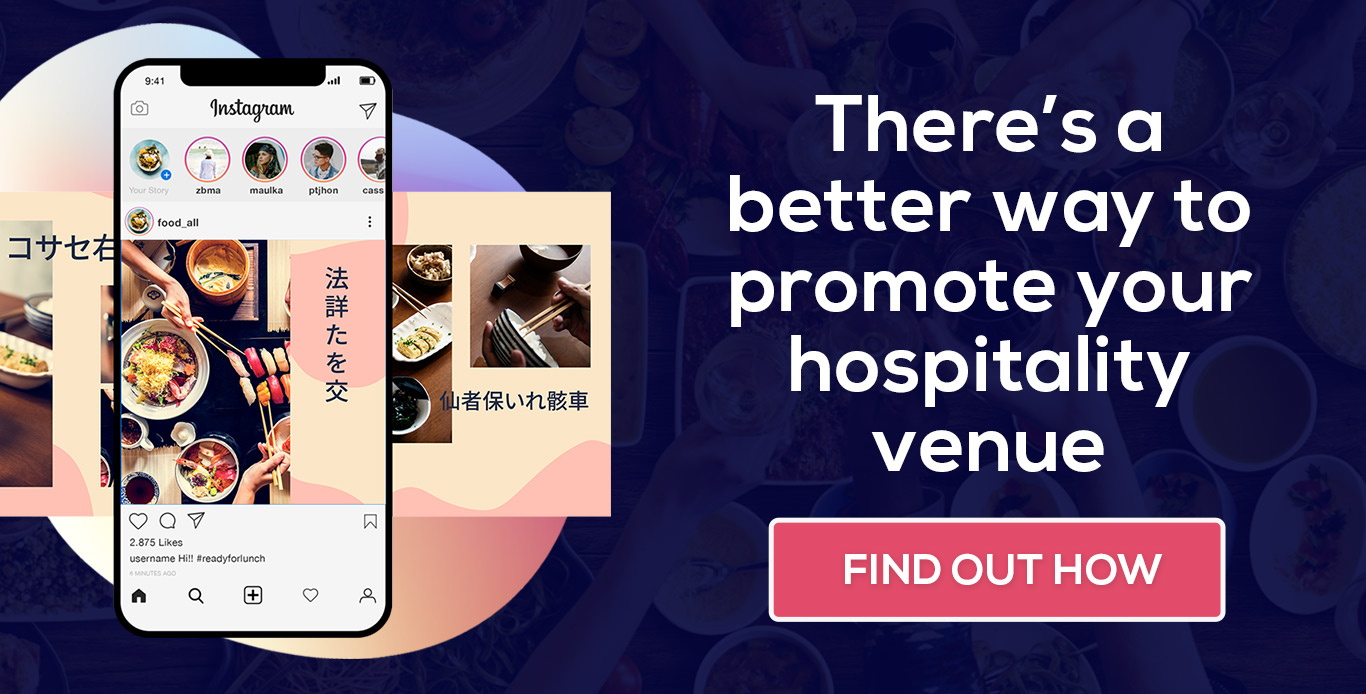 If you're not closing up shop, there are still a few things you can do to keep momentum going and customers coming in, even if not physically to your restaurant. Check out our hospitality marketing ideas below.
1. Promoting Gift Cards & Vouchers
The sale of gift cards and the 'Pay It Forward' initiative is a great way for customers to support their favourite restaurants and visit it in the future once this all blows over.
2. Marketing For Long Lead Events
While there isn't a definitive end date to the closures and the COVID 19 crisis, long term holidays and events like Christmas are far enough in the future to be feasible and provide people with a positive event to look forward to. Pushing Christmas events or weddings for 2021 is a great way to keep bookings coming in.
The same can be said for birthday, engagement and wedding event bookings. Promoting long lead bookings later in the year, or for 2021 could be a great way to maintain community awareness about your restaurant or venue and keep bookings coming in.
We have already seen a growth in demand for long lead wedding and Christmas party venues, with Google search data showing a rising trend in terms like 'wedding venue' and 'Christmas party venue'.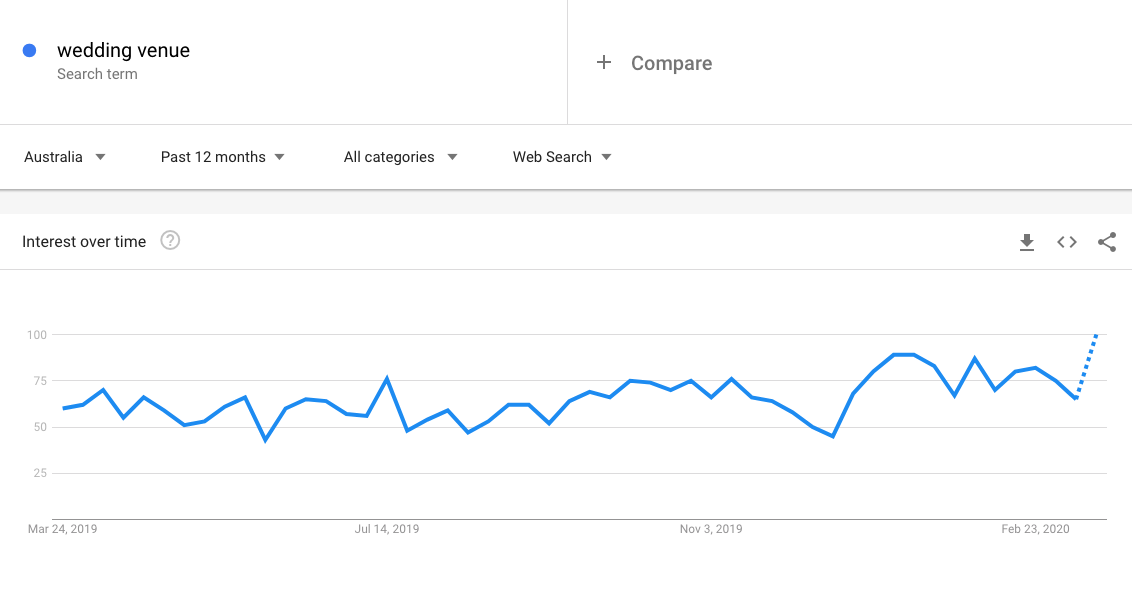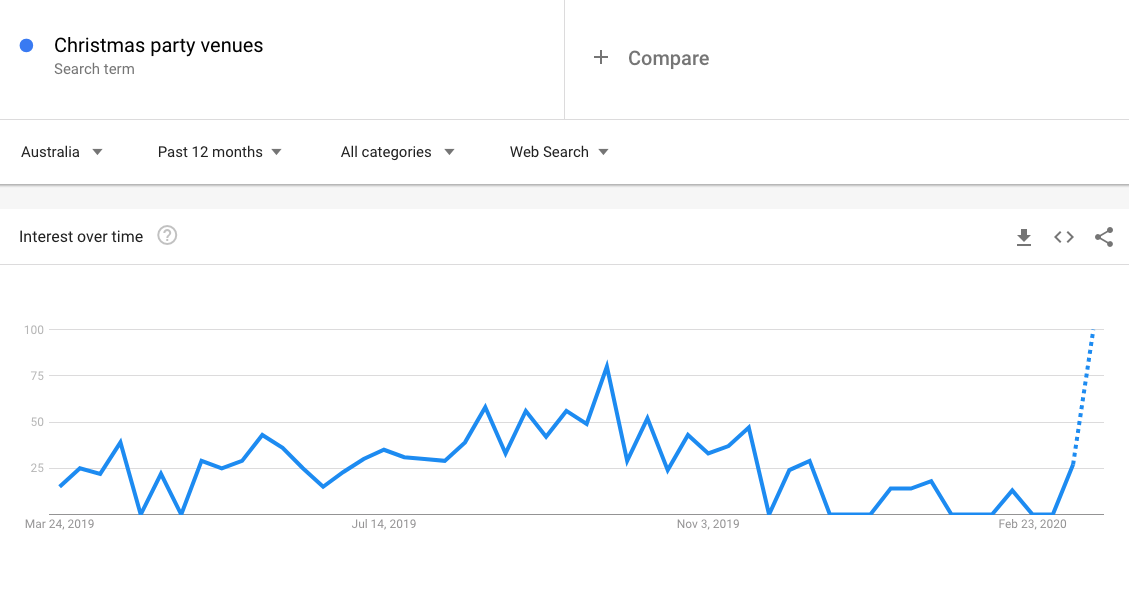 3. Online Cooking Classes
Hosting online masterclasses is also an option for some venues. While not everyone has the capabilities, it can offer restaurants, chefs and bartenders a great way to connect with customers while they're self-isolating at home and maintain a presence in the industry.
Still looking for answers to keep your restaurant or venue open during this time? We offer specialised advice and assistance to the hospitality industry and may be able to help you. Get in touch with us today!
Need Some Restaurant Marketing Ideas To Help You Through COVID-19?
If you would like to speak to an expert about digital marketing ideas to help your restaurant through COVID-19, please don't hesitate to contact us for a free 30 minute consultation.