COVID Safe Guidelines For Australian Hospitality Businesses
Food businesses and venues across Australia are gradually reopening to allow dine-in guests. 
In order to reopen for business, operators must adhere to guidelines outlined by each state and territory government. In some cases, hospitality venues need to submit a COVID-safe plan to demonstrate how they will operate within strict hygiene guidelines. 
COVID-Safe Guidelines By State & Territory
Locate the COVID Safe guidelines for your state:
Cafes & Restaurants To Be Reopened Under First Stage Of COVIDSafe Roadmap
 The Prime Minister has revealed the details of a new roadmap to reopening Australia post-coronavirus, presenting a three-step plan that includes opening up restaurants and cafes in May, then allowing 20-person gatherings before loosening restrictions to allow 100-person gatherings and interstate travel. 
The three-step roadmap was presented following Scott Morrison's national cabinet meeting with the premiers and chief ministers, and is designed to reopen activities that benefit the economy at a low health risk first.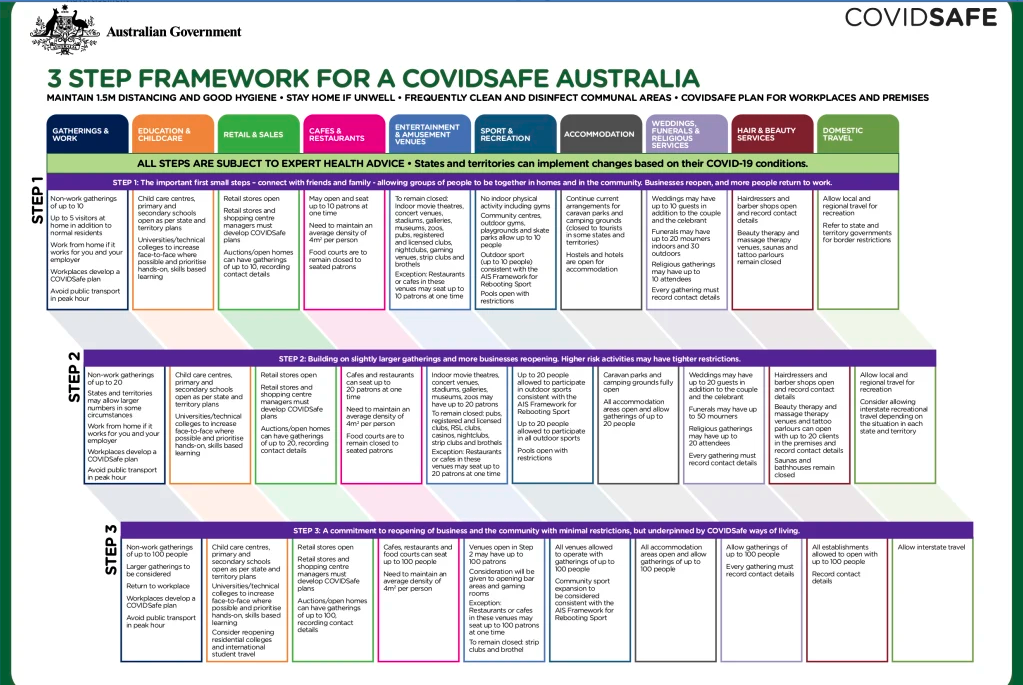 What Does The First Stage Of The COVIDSafe Framework Involve?
Restaurants and Cafes can open and seat up to 10 patrons at one time.
Wedding venues can host 10 guests
Funeral venues can host 30 guests outdoors and 20 guests indoors
Need to maintain an average density of 4m2 per person
Food courts are to remain closed to seated patrons
To remain closed: concert venues, pubs, nightclubs, gaming venues.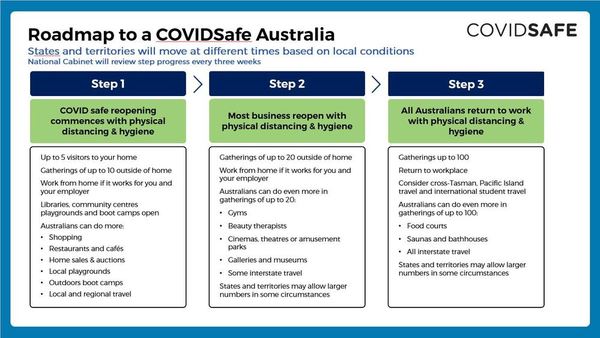 Australians will be allowed to have five visitors at home and 10 people will be allowed to gather in businesses and public places under stage one of the COVID-19 pandemic restrictions being lifted.
Restaurants and cafes meeting these requirements will also be able to reopen, as will libraries, community centres, playgrounds and exercise boot camps. Travel within states for non-essential reasons will also be allowed.
Weddings with ten guests will be allowed, as well as religious gatherings with the same number of people, so long as the contact details of those involved are recorded.
Funerals will be allowed 30 mourners if held outdoors and 20 mourners indoors, so long as each gathering records the contact details of those involved.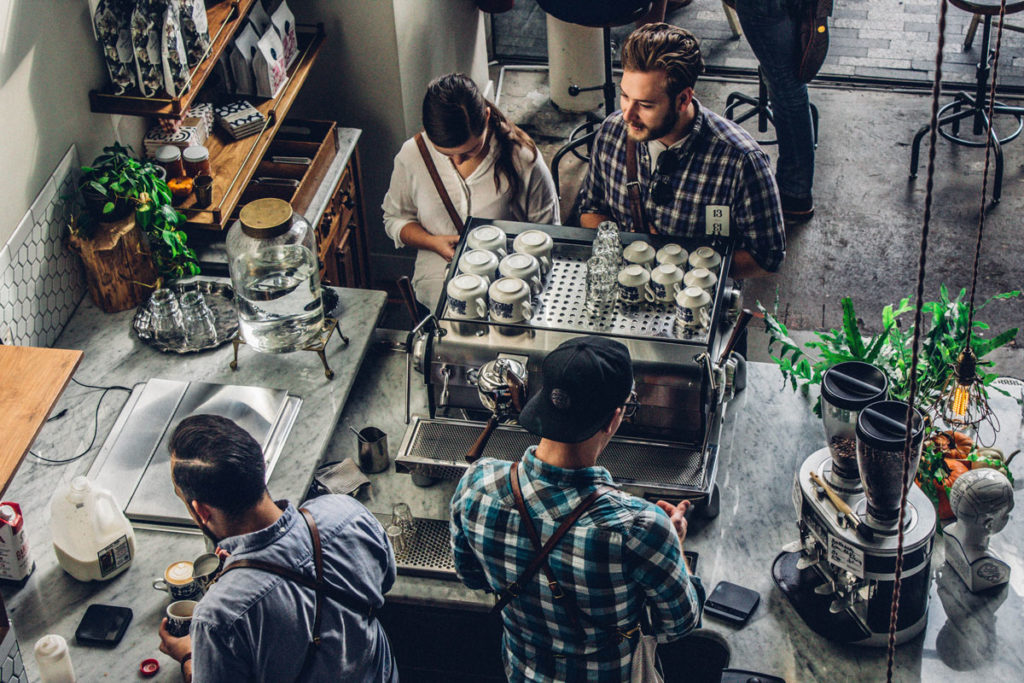 What Does The Second Stage Of The COVIDSafe Framework Involve?
Cafes and restaurants can seat up to 20 patrons at one time
Need to maintain an average density of 4m2 per person
Food courts are to remain closed to seated patrons
To remain closed: pubs, clubs, RSLs, casinos, nightclubs.
The second stage will allow gatherings of 20 people, and include the opening of gyms, beauty shops, cinemas, galleries and amusement parks, as well as caravan parks and camping grounds. Some interstate travel will also be allowed.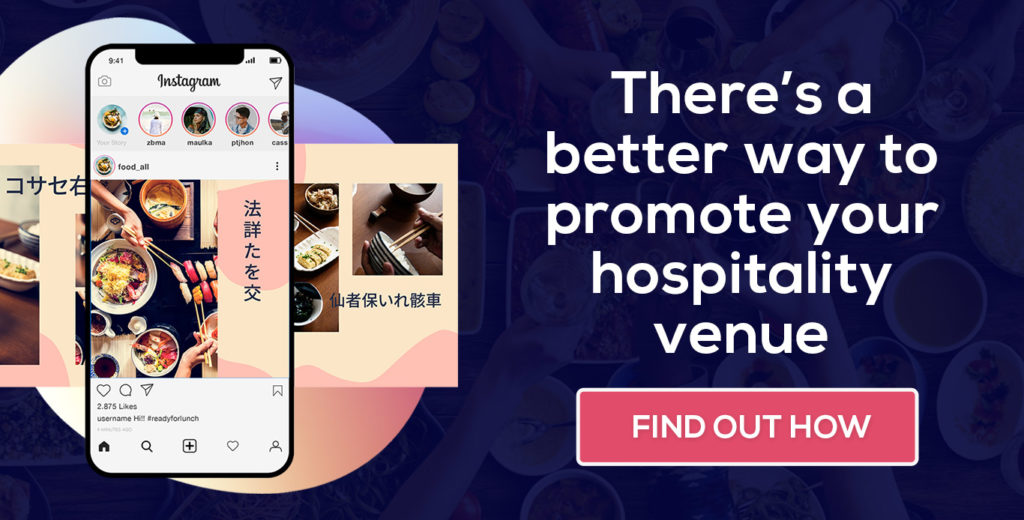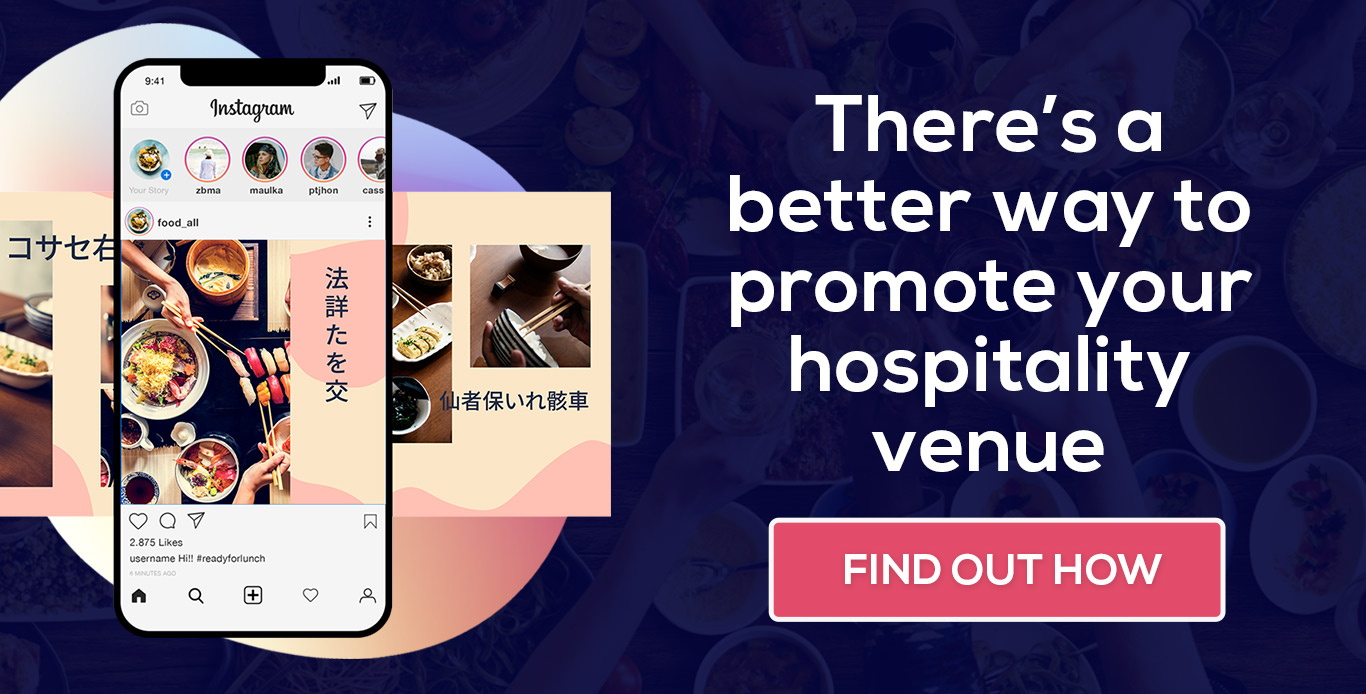 What Does The Third Stage Of The COVIDSafe Framework Involve?
Cafes and restaurants can seat up to 100 people
Need to maintain an average density of 4m2 per person
The third stage would include gatherings of up to 100 people, the opening of nightclubs, food courts and saunas, and all interstate travel as well as the possibility of travel to New Zealand.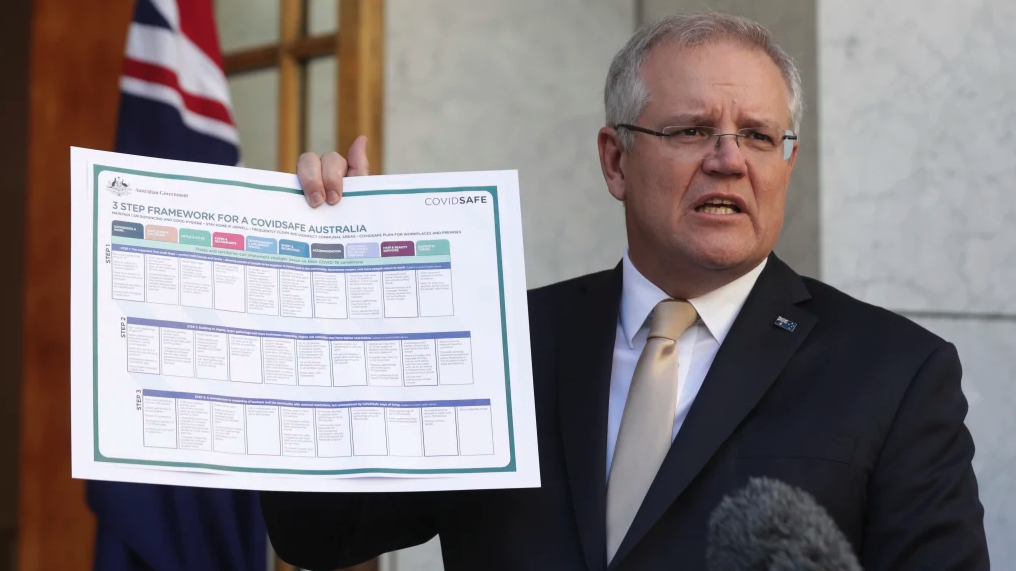 What Is The Timing Of The COVIDsafe Stages?
 Each of the states and territories will all move to the different stages at different times.
When Will Social Distancing End?
The COVIDSafe plan states that Steps 1, 2 and 3 will all involve social distancing and hygiene.
This includes:
Maintain 1.5m physical distancing
Maintain hand hygiene
Practice respiratory hygiene (cover your mouth, sneeze/cough into you elbow)
Stay home when sick
Download the COVIDSafe app
When Will Australian Restaurants Reopen After COVID-19?
The Australian government will reopen restaurants by May 2020. The national cabinet is reviewing a set of best practice guidelines recommended by the Restaurant and Caterers Association.
Restaurant Opening Guidelines For COVID-19
The guidelines provide a set of requirements that restaurants would need to follow to reopen following the relaxation of lockdown laws.
Some of the guidelines that restaurants would need to follow include:
Pre bookings required for dine in customers
Walk in patrons to sign in
Use of COVID-19 tracking app
No condiments left on tables
All condiments to be disposable
No communal water stations
No keep cups
Menus to be laminated or disposable
Chalk board menus where possible
No bar service to prevent customer contact
Different entry and exit points to limit contact between patrons.
When Will Queensland's Cafes & Restaurants Reopen After COVID-19?
Cafes and restaurants are set to get the green light to start re-opening in Queensland from June.
Premier Annastacia Palaszczuk said on Monday that a June opening date was "a good, ambitious target". "I can't say whether it's early June or late June but I'm going to have those discussions, but as (chief health officer Jeannette Young) has said we've got to take these things a couple of weeks at a time, we can't do it all at once," she said.
Palaszczuk will speak this week with the hospitality industry about plans to get businesses up and running again after the six-week lockdown. National Cabinet is looking at restrictions and a road map for businesses recovery is expected to be released in the next few weeks, the Premier said.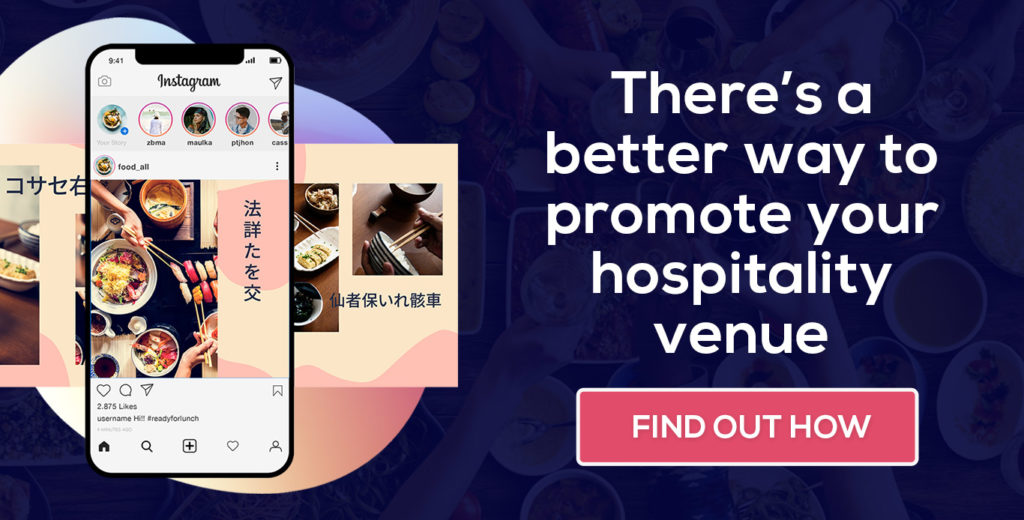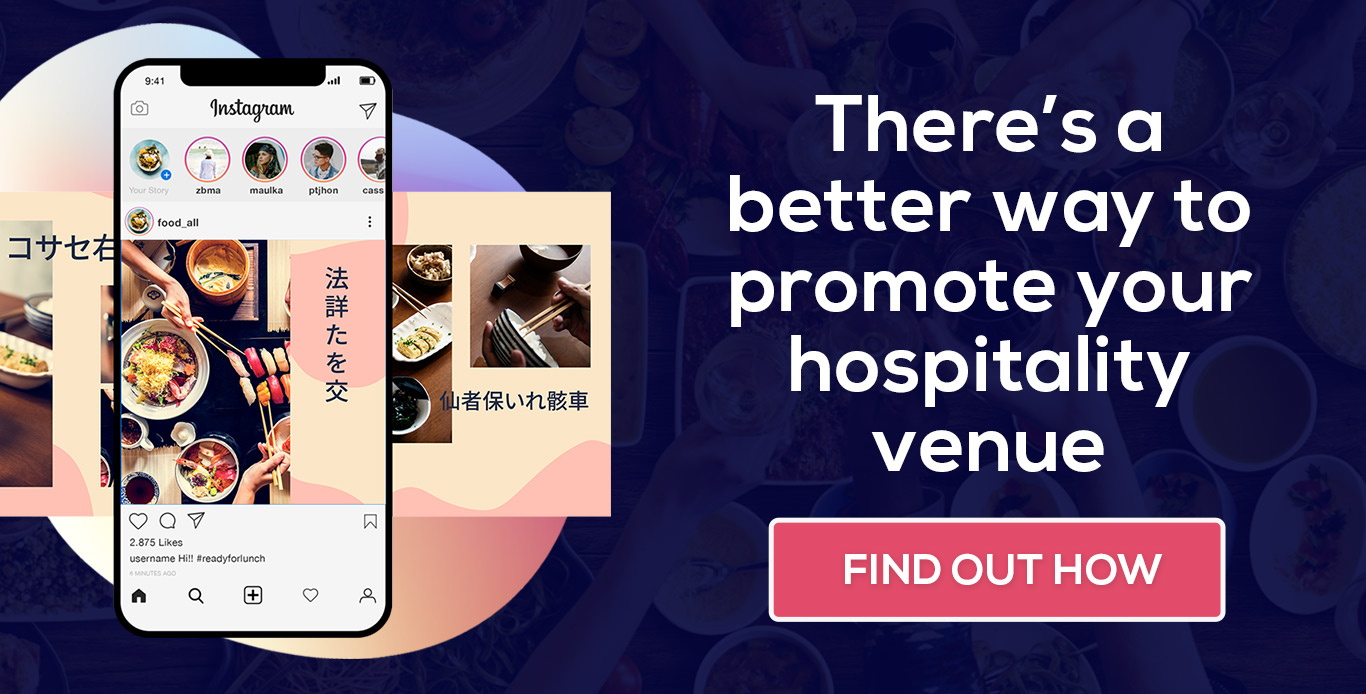 Queensland: COVID-Safe Guidelines
To reopen and operate your business, you must have a workplace health and safety plan to demonstrate the actions you are taking to ensure the health and safety of your employees and customers. If your industry has been deemed as higher risk, you must sign and display the COVID Safe Checklist on your premises to offer dine-in services. The list does not need to be submitted for approval, but enforcement officers may check compliance with the list at any time. The list covers requirements for compliance including the wellbeing of staff, physical distancing, hygiene and cleaning. Businesses that do not complete the COVID Safe checklist could face fines.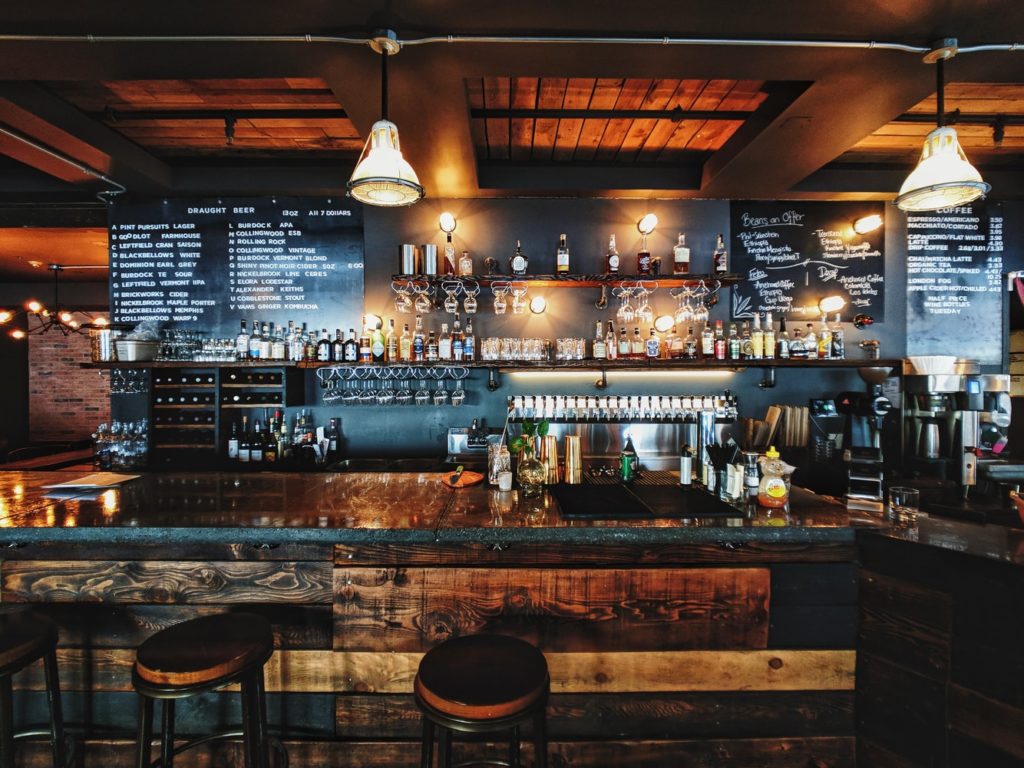 Australian Capital Territory: COVID Safe Checklist
The ACT Government has provided a checklist, which businesses must complete and store on premises. The checklist covers how to ensure physical distancing between patrons and remain compliant with the regulations. Failure to comply with these measures may result in significant penalties.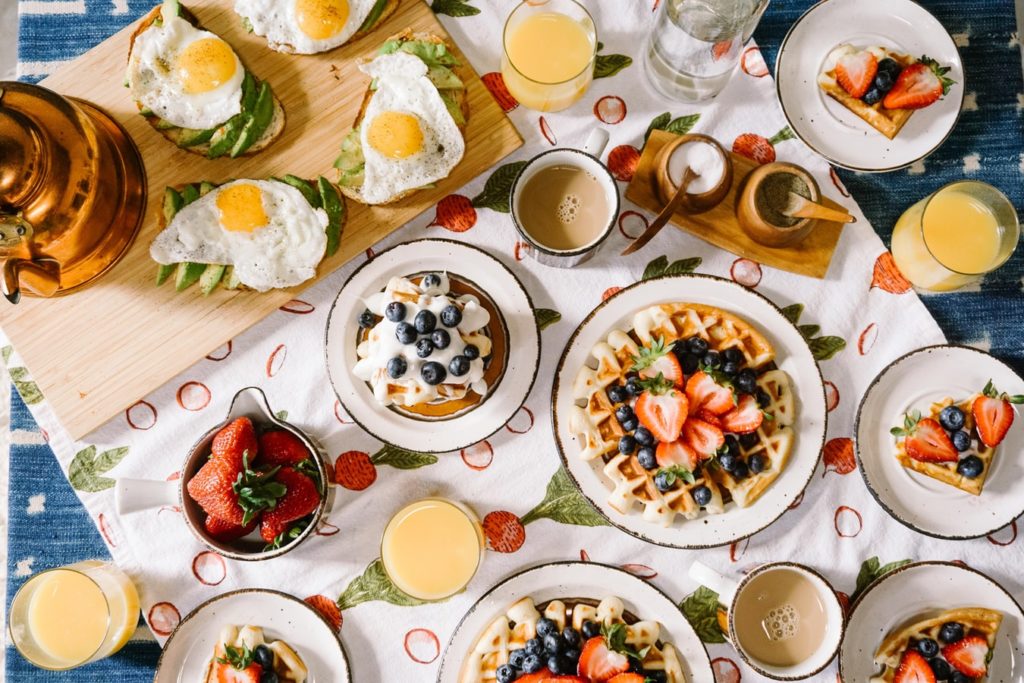 New South Wales: Guidelines For COVID Safe Workplaces
Hospitality venues in New South Wales must follow a strict set of guidelines outlined by SafeWork NSW. These recommendations include managing hazards and risks, cleaning processes, implementation of workforce screening and use of personal protective equipment.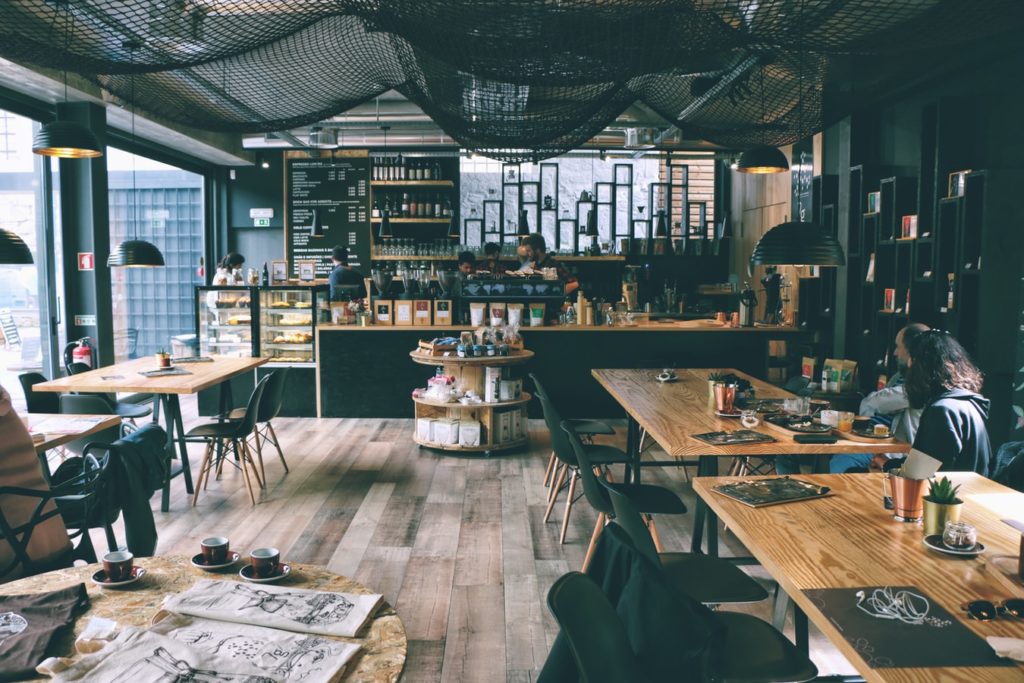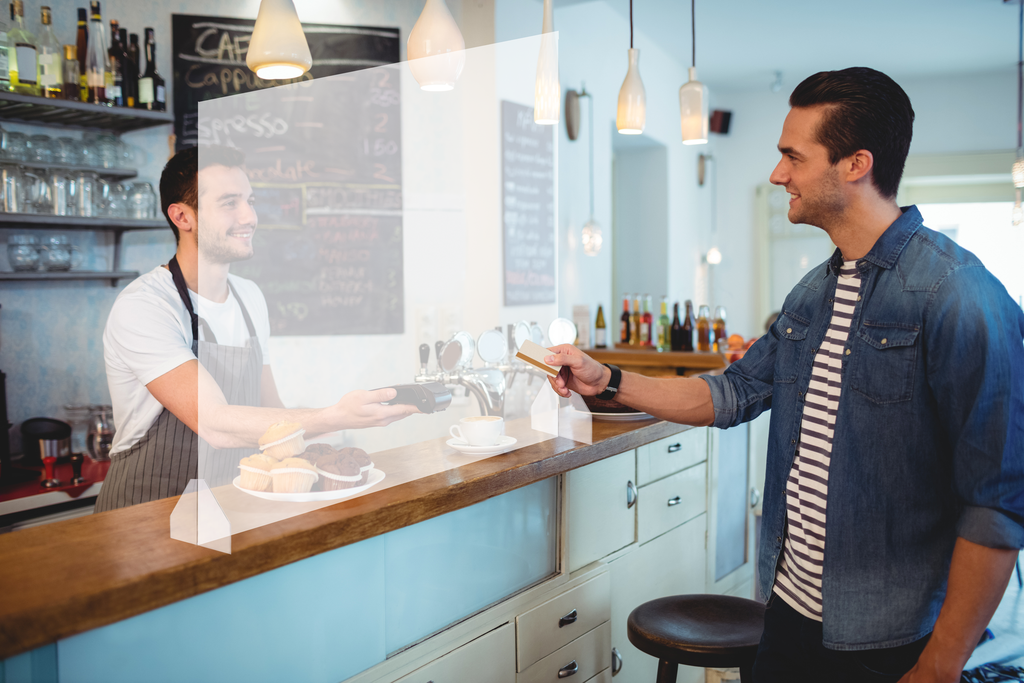 South Australia Requirements
The South Australian government has outlined a range of requirements and recommendations for businesses who choose to offer outdoor dining. Indoor table service is still prohibited and alcohol cannot be consumed on premises. Operators should familiarise themselves with the government's outdoor dining fact sheet, which covers details such as social distancing, use of shared equipment, hygiene, disinfection and signage.
Click here to download South Australian Outdoor Dining Fact Sheet
Tasmania Requirements
Businesses need to demonstrate compliance with the Minimum Standards (Work Health and Safety Amendment Regulations 2020) by developing a COVID-19 Safety Plan. All restaurants and cafes will need to develop a plan before reopening. Once the plan is in place, businesses can register for COVID-safe window stickers and posters. WorkSafe Tasmania's COVID Safe Workplace Guidelines for the Hospitality Industry is designed to help businesses develop a plan.
Click here to view Tasmania's COVID Safe Workplace Guidelines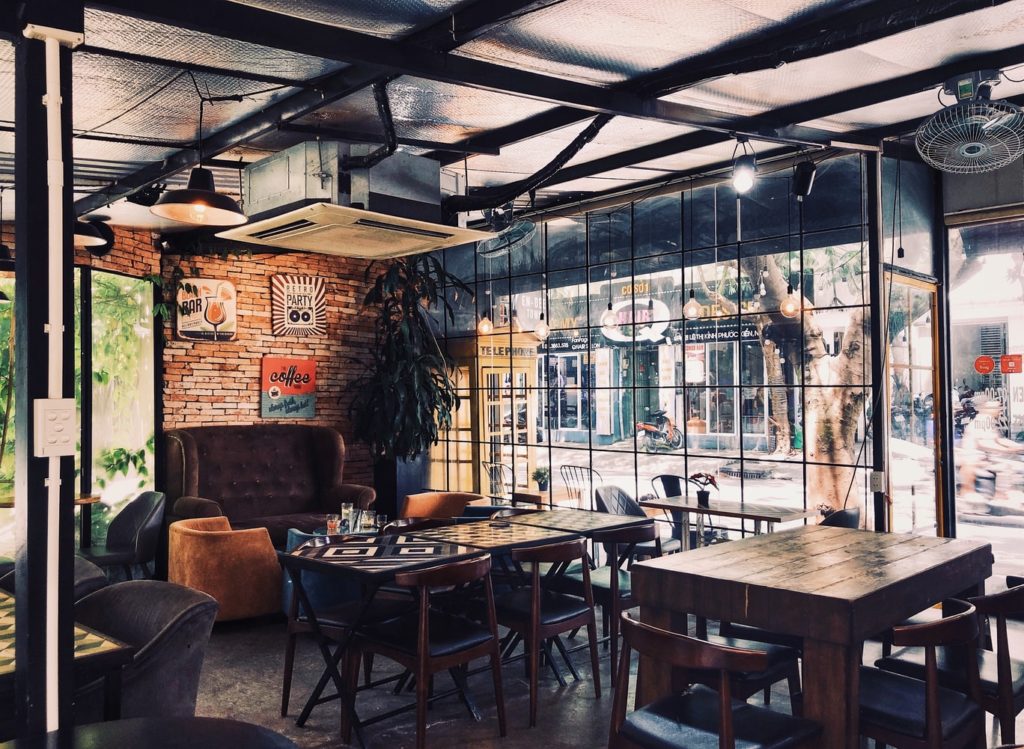 Victoria Requirements
Victoria Police will conduct spot checks of venues to ensure they are complying with guidelines, which are set to be released on Monday 25 May. Restaurants and cafes can reopen from Monday 1 June.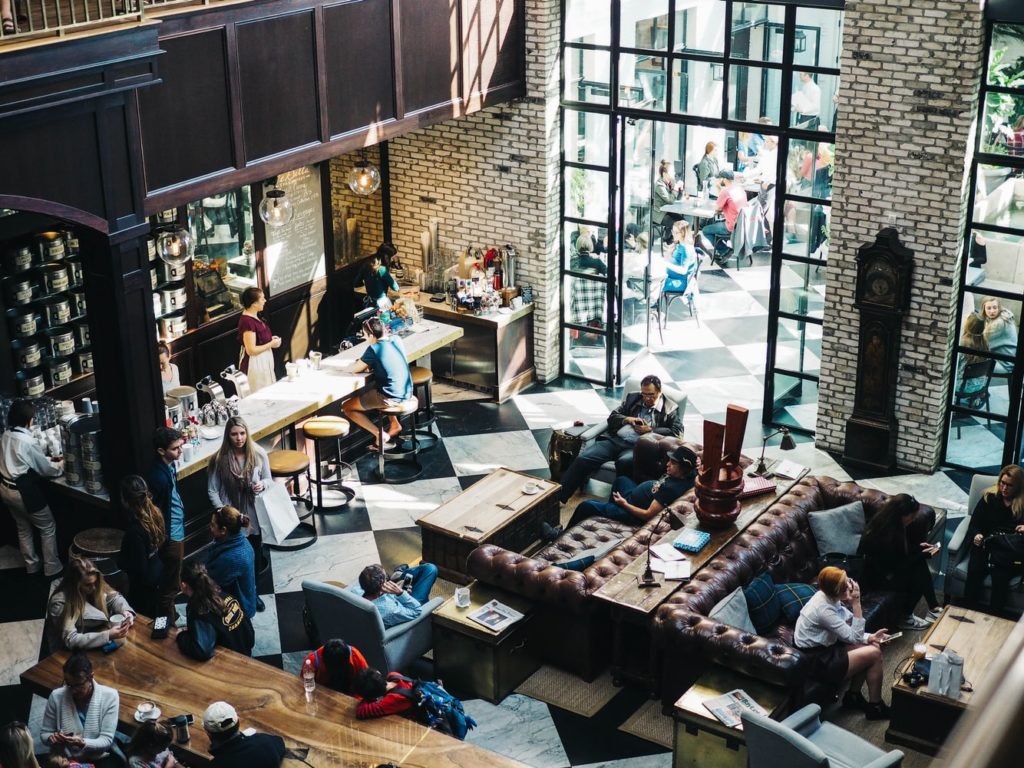 Western Australia Requirements
Businesses need to complete a COVID Safety Plan and hospitality workers need to undertake COVID-19 hygiene training. There are tailored COVID Safety Guidelines, which outline the mandatory requirements for venues opening beyond takeaway only. A specific COVID Safety Plan for food businesses will need to be completed, after which a COVID Safety Certificate should be displayed.
Click here to download the COVID Safety Plan For Western Australia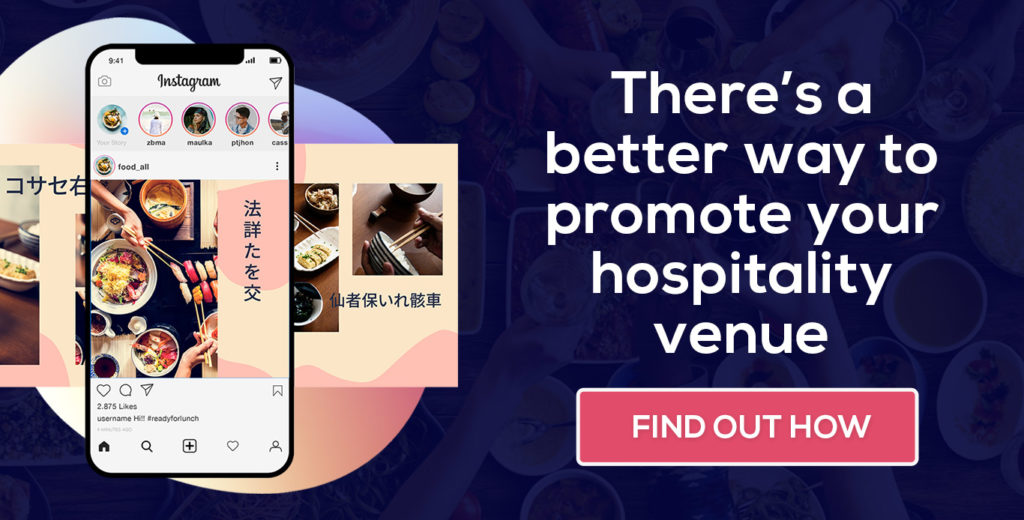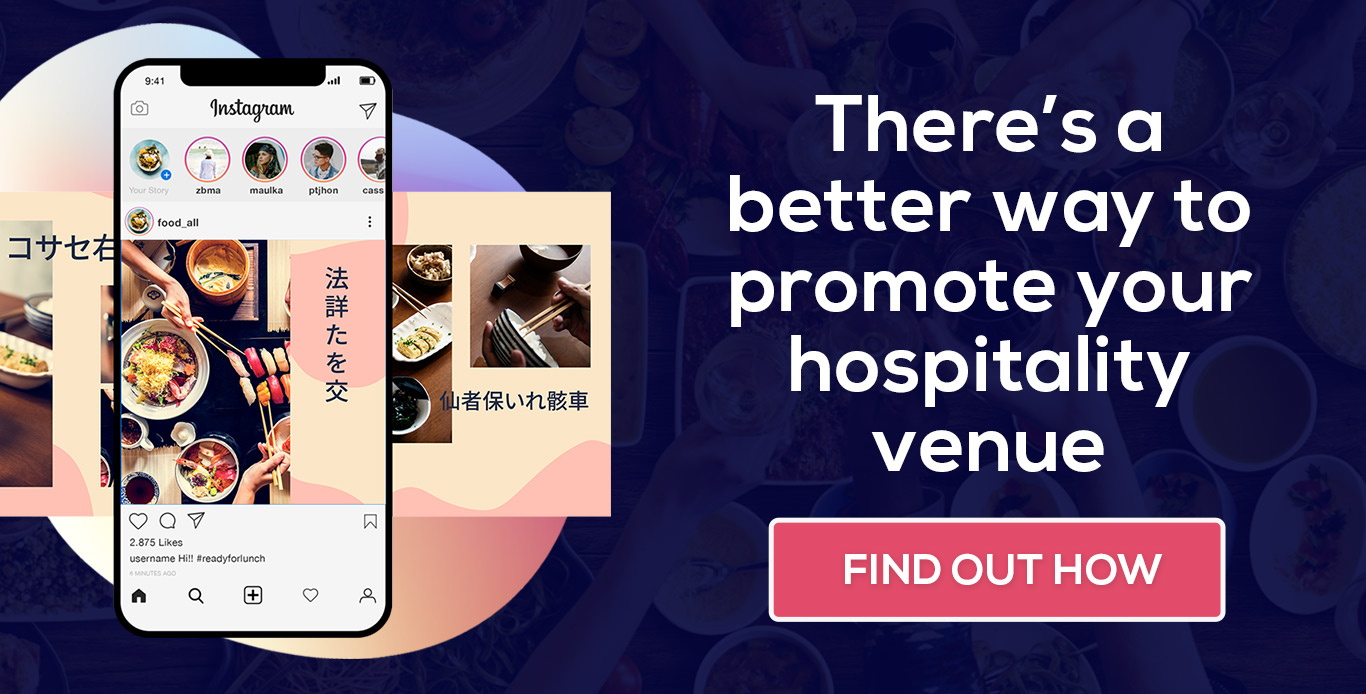 How Will Australian Restaurants Survive COVID-19?
There's no doubt that Australian restaurants are struggling due to COVID-19. There are still ways that restaurants are able to stay open and survive during this uncertain time. Check out our blog to find out how our hospitality industry will survive and discover some tips to add to your restaurant's digital marketing strategy to future proof your business.