Everything You Need to Promote Your Takeaway Menu
There's no doubt that Australian restaurants are struggling due to COVID-19. Despite the new trading restrictions, there are still ways that restaurants are able to stay open and survive during this uncertain time and offering a takeaway menu is one effective way of keeping the doors open. 
Read below to find our guide to marketing a successful takeaway menu for your restaurant.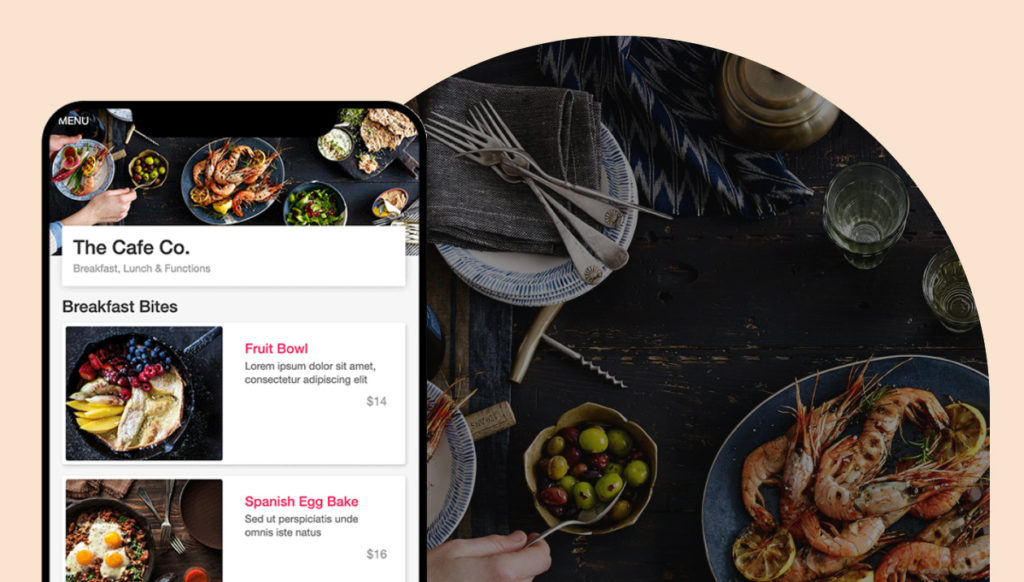 Visual Menu is the new, completely FREE option on the block. 
We build this as a way for struggling hospitality businesses to take orders online without having to pay any monthly fees or commissions on orders. The easy to use interface allows you to have beautify visual menus up and running within 15 minutes to start taking orders via phone, SMS or your own online ordering system.
PRICE
No monthly fees
No commissions
Define Your Offering
In an industry where every business has been forced to change their business model and offering to adapt to the current crisis, it's important that you clearly define an offering that works for you and your target customer base.
Before COVID-19 takeaway menus were typically associated with fast-casual restaurants. Following the introduction of social distancing rules, takeaway has become the most viable option for all menu types, including high end restaurants, cocktail bars and produce suppliers.
Menu Types: Pre-Order, Made-to-Order or Semi-Prepared
While most venues are opting for the traditional method of made-to-order meals, it's important to explore all options and what works best for your business model.
Pre-Order Meals
A number of venues, mostly fine dining, are opting for the pre-order method where orders must be in 24 hours before service. This allows venues to know exactly what produce they need to buy in the morning and gives them time to prepare each meal.
This strategy does not provide customers with the same level of instant gratification that other methods offer, so some venues may miss out on orders from customers who want their meals in a short timeframe.
Made-to-Order
This is the traditional method that has been around forever. A restaurant holds enough stock to cater for and prepare orders as they come in. To compete with other restaurants, customers are expecting a 15-20 minute pickup time or 30-40 minute delivery.
Semi-Prepared
This is a lesser used takeaway method that delivers customers with the experience of cooking their own meal. The components of each dish are separated into sealed compartments to be prepared using instructions provided. This adds a little extra effort for the customers to prepare their meals, however it's a great interactive experience that customers will remember if the steps are easy to follow.

Takeaway and/or Delivery
Takeaway menus have proven to be a logistical nightmare for the hospitality industry. Since the introduction of UberEats, people have become accustomed to instant gratification of meals being delivered directly to their door.
Takeaway Meals
This is by far the easiest option for venues. Once an order is placed, the customer is given clear instruction on when and how to pick up their order.
It's important that venues provide effective social distancing practices to keep their customers safe during the pickup process. This can be done through 'dropoff' tables outside their venue for contactless pickup. If customers have to queue for their takeaway orders, markers should be placed at least 1.5 meters apart to ensure customers stand a safe distance from each other. With most venues refusing cash, payment can be taken via the phone on ordering or a quick tap and go of the eftpos machine.
Delivery Options
A highly contentious issue plaguing the industry right now is the obscene commissions charged by popular delivery apps like UberEats and Deliveroo. Service fees of 20-30% make these apps unrealistic option for a vast majority of restaurants. Instead, venues are opting for personal local delivery (within 2-3kms) as a way to keep their staff employed.
Examples Of Effective Takeaway Menus By Australian Restaurants
Comfort Foods & Pastries
It's not a surprise that in times of stress and crisis like these, people have turned to comfort foods as a coping mechanism. A very successful offering at the moment is pastries (demand up 194%), pizza (demand up 44%) and dessert (demand up 143%).
Exclusive Set Menus
Restaurants like Gerard's Bistro generating a high volume of sales by offering a weekly set menu with only a few portions available each night.
Popup Concepts by Existing Restaurants
Brisbane restaurant Happy Boy has demonstrated why building a strong community following is so important for restaurants. Where most venues were struggling with orders in their first week of this crisis, Happy Boy received a huge volume of orders. This strong following allowed Happy Boy to open an additional pop-up restaurant, Kid Curry, which utilises their second kitchen in a nearby premises. By expanding their offering to two cuisines, the owners can double the orders from their existing database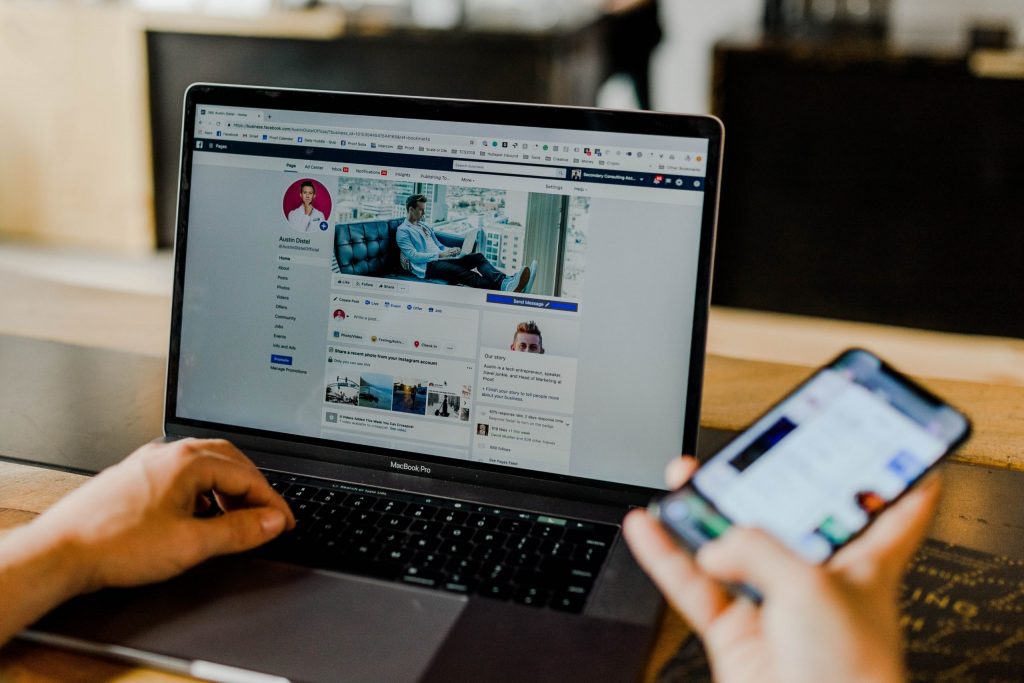 Review Your Digital Presence
For the last decade, the digital presence has been the most important of businesses. With 70% of website traffic coming from mobile users sitting on their coach, you have 15 seconds to make an impact on a small device.
A restaurants success for takeaway is determined by how attractive their offering is presented and how easily it is for customers to find their menus and ordering instructions.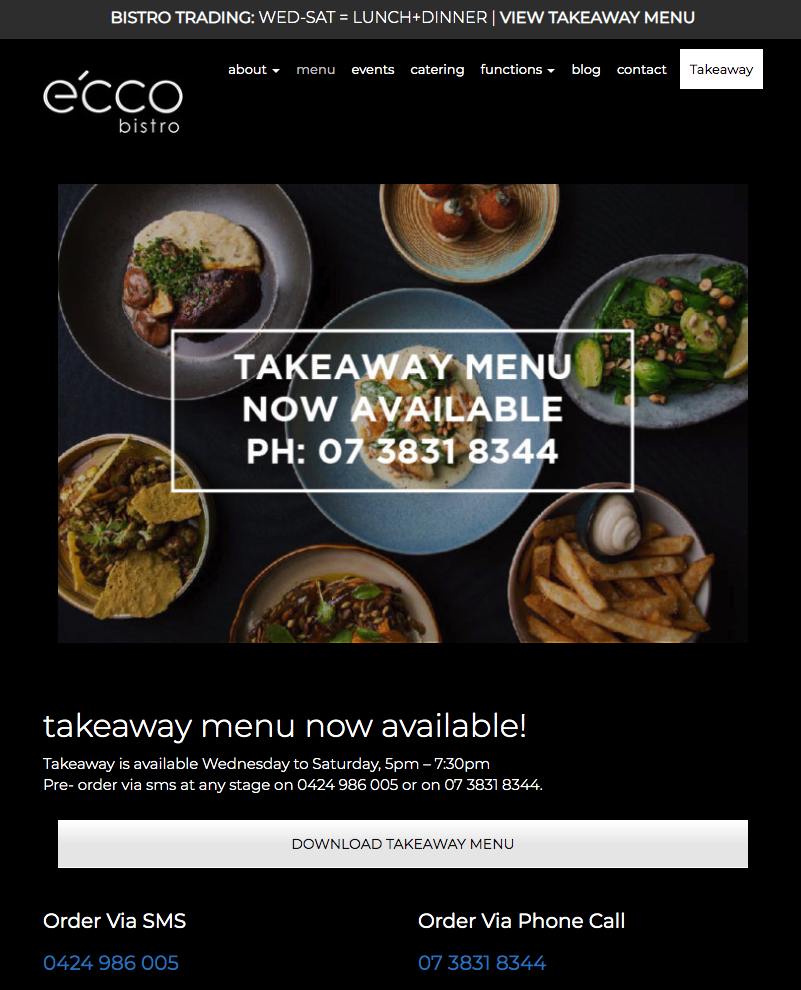 Your Website & Menu Should Emphasise Your Takeaway Offering
Before COVID-19, a venue would have to juggle the importance of the different areas of the business. These areas included food menus, upcoming events, function spaces, etc..
During COVID-19, takeaway has become the only offering available to venues and should be the primary focus. There is no need for a slideshow or banners on your website's homepage offering anything other than your menu items and instructions that clearly explain how to receive them.
The key elements you MUST have on your home page:
A clear title that says 'we are open for takeaway' (and/or delivery)
A strong feature image that showcases your offering (preferably a flat lay image showcasing multiple dishes)
A short description (2-3 sentences) explaining your offering and how to order takeaway from your restaurant
A screenshot of a quick link to your takeaway menu PDF (make sure it opens in a new window) 
Very clear instructions about how to order your takeaway meals (SMS, phone or online ordering system) with phone numbers clickable
A clear address that is linked through to Google Maps
Above all, this needs to be easily viewed on a mobile device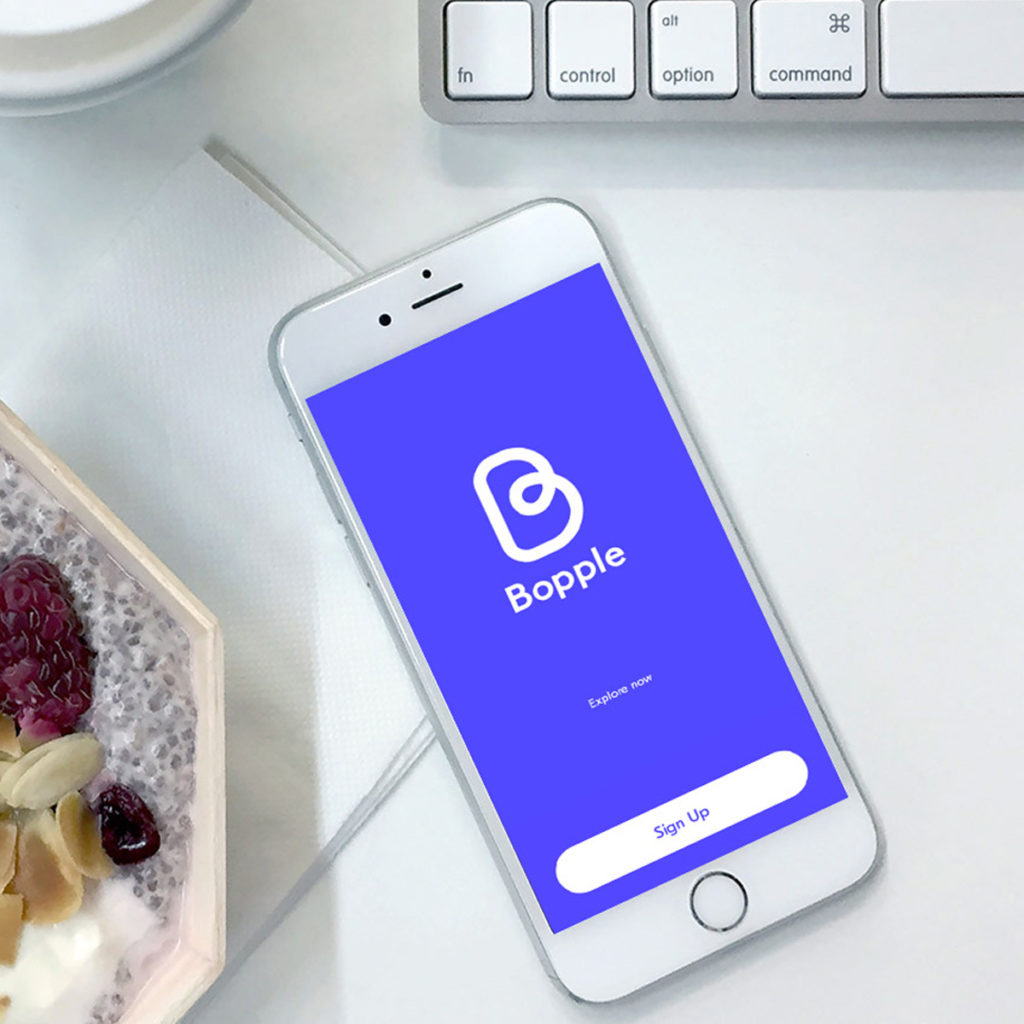 Ordering systems like Bopple ave been effective in helping restaurants.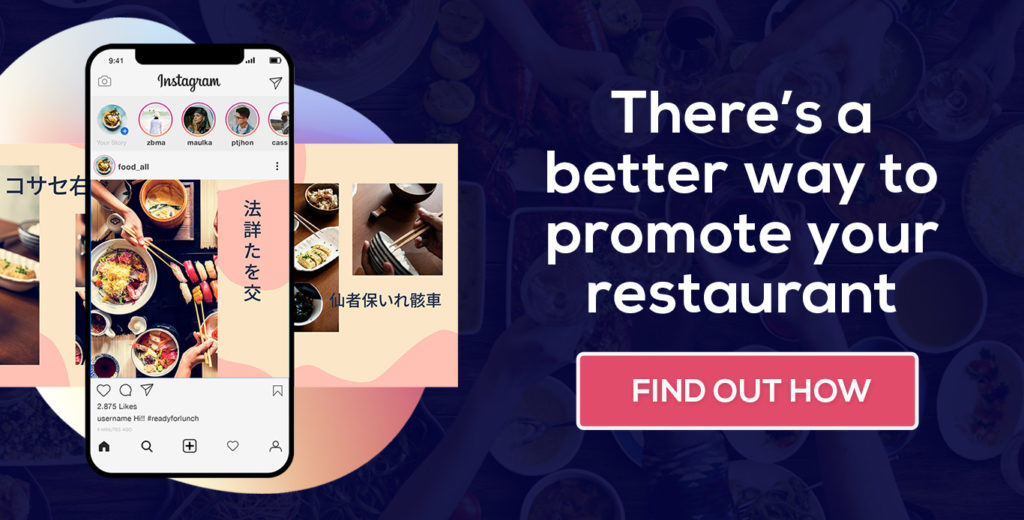 Takeaway Ordering Systems
There are a number of options available when it comes to a takeaway ordering systems. 
A Phone Call
The traditional method phone orders is by far the easiest method for everyone involved. Payment can be taken over the phone or on arrival. 
SMS Orders
With younger generations (and even the older) preferring to avoid direct communication, ordering takeaway through SMS has been effective. The customer simply sends a text message to a dedicated mobile at the venue. The order is then confirmed by the restaurant via SMS.
Online Ordering System
Before coronavirus, an online booking or ordering system was the expected method for more customers. Anything more than a 3-step booking process was an inconvenience. Offering an online ordering system is the best option for restaurants looking to thrive in a digital world, however there are a few guidelines that need to be followed:
Restaurants who choose to build an 'online store' style ordering system – must make the interface easy to follow. The Uber Eats interface is a good example of a style to follow. Customers will abandon their orders if the system is difficult to navigate, or if it takes longer than 1 minute to submit their orders.
Unless your restaurant makes large margins on takeaway meals, Uber Eats, Deliveroo are not recommended due to the large commissions that are charged.
There are a number of online ordering systems available for restaurants who offer takeaway that do not cost an arm and a leg to run, depending on your requirements. Some examples include:
Social Media Communities
Successful takeaway restaurants are made through the quality of their following. By nurturing your audiences across social media channels such as Facebook and Instagram with 'food-porn' content you'll create food-envy and repeat customers. 
Our key tips for restaurants who want to promote their takeaway menus through social media:
Get a professional photographer to take quality food photos on a regular basis. This will help you stand out from competitors, especially when the  news feed is already overcrowded with food imagery.
Change your offering regularly and release new menu items that can't be found elsewhere.
Create an exclusive experience for your customers by limiting the amount of orders available on specific products each day. Nothing makes people want you more than not being available.
Timing is everything. Try posting a dessert photo after lunch or after dinner when your audience's sugar cravings kick in.
Post your dinner items mid-morning when the audience's appetite starts growing. This allows enough time for your customers to start thinking about their orders for the night ahead.
Post 4-6 times a week on your Facebook and Instagram feed, but upload as many stories as you like. Stories create the opportunity to post content that may not be curated, or fit your general style guide, but may still showcase what your restaurant is offering.
Email Database
Although email marketing is generally considered as an outdated marketing channel for restaurants these days, we find it to be the most effective in terms of cost and return. Software costs aside, email gives you 100% share of voice and unlimited contact with your audience (within reason).
Our key tips for restaurants who want to promote their takeaway menus via email marketing:
Email your database 2-3 times a week.
We recommend constantly building your database to ensure only your most engaged followers stick around.  This gets you in front of loyal customers without having to pay per click or fight with competitors on a newsfeed.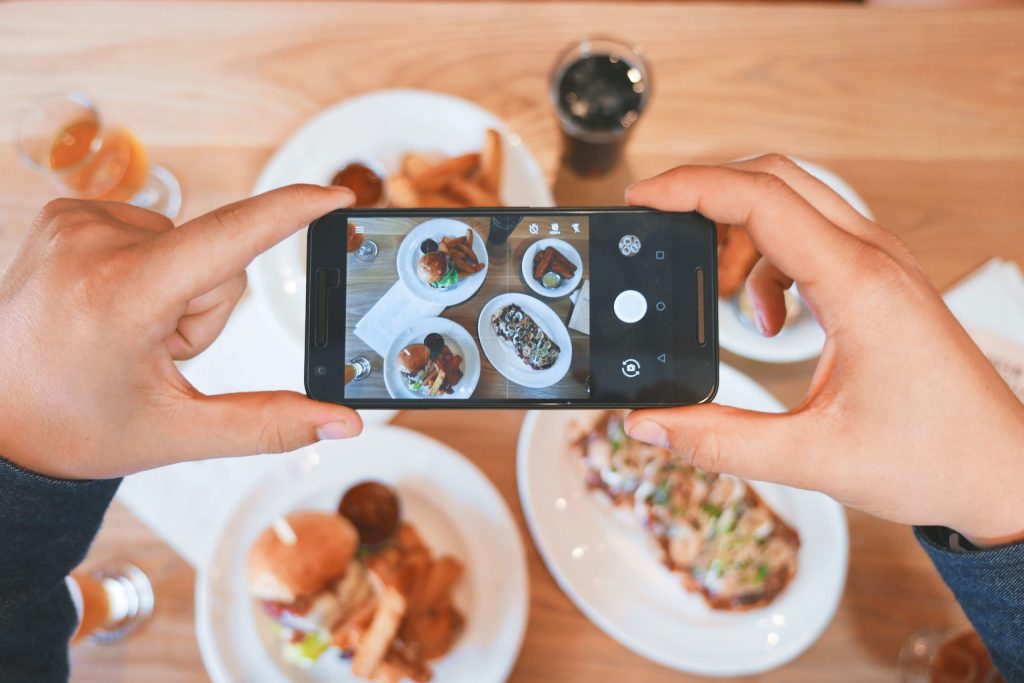 Grow Your Audience & Promote Offering
Now that your offering is defined, your digital presence is in order and quality content is being promoted across your social end email channels, you need to grow your audience. You can never have too many followers, but it's important to ensure you're chasing quality, not just numbers. If you want your followers to place an order for your takeaway meals, they need to be real people, within your local area who are interested in your offering.
Social Media Followers & Database Drivers
Your two most important channels when marketing a successful takeaway offering are your social media accounts and email marketing database. With both options giving you an organic (non-paid) method of contacting fans, you can consider this as 'free traffic.'
Create Quality Content People Want to Share
Quality content and use of hashtags is the standard way of growing your social media audiences. By posting quality imagery and 'food porn', your followers are naturally going to share it with their friends. 
Run Competitions & Giveaways
However, the most effective way to grow your audience is by running competitions and giveaways. Let's face it, people like free stuff so they are very likely to submit their email address or follow your page if there is a chance of winning free food, vouchers or experiences. Promote these competitions to your followers and combine it with paid Facebook and Instagram advertising to maximise results.
Some restaurants have also seen success when launching a menu by offering giveaways. The Yiros Shop saw lines around the block when they ran a 'free burrito' campaign to their local area.
Local Area Advertising Campaigns
Utilising your 'organic' traffic from social media accounts and email databases is a great way to get free traffic. However, sites like Facebook and Instagram are making it increasingly harder to reach your own audiences without paying for the privilege. So, if you are going to pay to reach your audiences, make it count.
Here are a number of campaigns that we recommend running:
Local Area Takeaway Facebook & Instagram Promotion 
Create an ad group that targets people who live within 2-5kms of your restaurant
Limit your audience to your target age range (i.e 21-35 years of age)
Our tip: couples are a great audience to target as as it insures two meals for the price of one click and, if you're lucky, it's date night and they'll add a bottle of wine
Videos will earn the highest engagement and will provide the best value for restaurants who want to reach larger audiences
Create a carousel advertisement with your top 3 best selling dishes
If you, or your web designer have the expertise to set up conversion tracking on your online ordering system – use it. After Facebook has enough data, they can use machine learning to automatically show your ads to people who are most likely to make a purchase. This can reduce your cost per order by half.
Local Area Database Generator
Much like the takeaway campaign, create ads targeting potential customers in your area.
Run a competition that gives away a meal or voucher in exchange for the user's email address
Make sure you segment this audience in your email marketing software to easily target them 
Run an email campaign every week promoting 'local specials' to this audience. Make it pick-up only to avoid any delivery costs