SD-WAN: Software Defined Wide Area Network
SD-WANs (software-defined wide-area networks) are often praised for uniting enterprise network and security functions into one solution, but there is actually a bigger story of convergence. 
Recently, some vendors and solutions have been converging the network, security and artificial intelligence under the SD-WAN umbrella, giving way for AI-powered insights, virtual assistants and augmented management. With these additions, SD-WAN is starting to look like autonomous networking.
As the new central hub for the multicloud enterprise, SD-WAN's centralised control gives IT professionals flexible hybrid connectivity and bundled security features needed for cloud transformation. But we're seeing SD-WAN move past the early years of connectivity, next-gen firewalls and secure internet breakouts. Now, it's taking a deeper dive into cloud security and AI-based network automation.
In fact, it's hard to find another sector of the enterprise IT industry that has experienced faster growth than SD-WAN. IDC analysts predict the SD-WAN market will grow 40.4% each year to at least 2022, when it will reach $4.5 billion. Dell'Oro Group analysts said the growth rate will hit 35% a year over five years.

What Is SD-WAN?
SD-WAN enables enterprise branch offices to use a range of transport methods—not only MPLS but also broadband internet and 3G and 4G LTE networks—to move data and applications. With 5G in the immediate future, data speeds are only going to improve. SD-WAN also provides more consistent performance, improved security, easier system provisioning and management, and lower costs.
The big idea for SD-WAN is that multiple physical WAN links of any sort can be used to carry traffic without the network engineer having to do much engineering. Rather, the SD-WAN solution runs an overlay (tunneling) on top of the physical infrastructure, abstracting the actual links away.
The Benefits Of SD-WAN
SD-WAN forwarders (somewhat analogous to routers) monitor the performance of each physical link, and forward individual flows to remote SD-WAN forwarders across the link best able to handle that flow's SLA requirements. Where did it get the SLA requirements? A network operator defined them in a central controller, which distributed that policy to all of the SD-WAN forwarders.
The practical upshot of all this? A company can reduce spending on private WAN links by adding cheaper broadband links to the WAN mix.
SD-WAN is a hot topic and on the short list for almost every business. Choosing a vendor is tough because the range of what type of features offered is so broad. 
Australia's Top Rated SD-WAN Vendors
Who are Australia's best SD-WAN providers? Scroll down to find out more.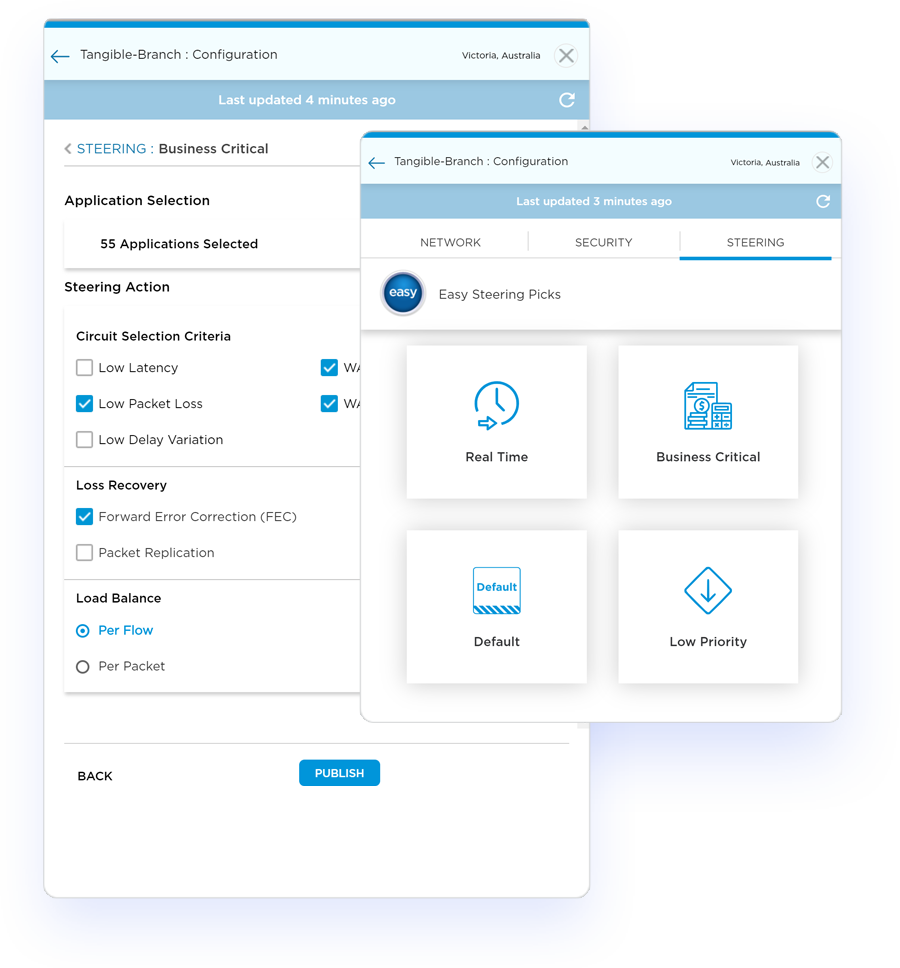 Tangible Technology Networks
Tangible Technology Networks provide Australian partners and end-users with powerful, next-gen network delivery. We do this with our market-leading Secure SD-WAN solutions, supported and hosted locally, and designed for today's "everywhere business". 
Versa Networks
Versa SASE connects enterprise branches, teleworkers, and end users securely and reliably to applications in the cloud or data centers around the world available via the cloud, on-premises, or as a blended combination of both.
Fortinet
Fortinet FortiGate delivers fast, scalable, and flexible Secure SD-WAN for cloud-first, security-sensitive, and global enterprises. The Security-Driven Networking approach consolidates SD-WAN, next-generation firewall (NGFW), and advanced routing. Fortinet's Security Fabric continuously assesses your vulnerabilities and automatically adjusts to provide comprehensive real-time protection across the digital attack surface and cycle.
Cisco Meraki 
Cisco SD-WAN powered by Meraki is designed for cloud or on-premises enterprise environments to provide visibility across branch locations. It does this with advanced analytics that combine machine learning and smart path selection to assure business-critical applications perform well no matter where they are hosted.
SD-WAN FAQs
What is an SD-WAN appliance?
An SD-WAN appliance is a replacement for a traditional network router. It implements all of the connection management for an entire LAN to link through to remote sites.
What is the difference between SD-WAN and MPLS?
Multiprotocol Label Switching (MLPS) is a routing algorithm that selects a neighboring router to pass data onto by its short path label rather than by looking at a routing table. SD-WAN works with IP addresses and so is easier to route over the internet. The SD-WAN just manages the address differences when accessing an endpoint on a remote network so it seems to be resident on the local network.
What are the weaknesses of SD-WAN?
SD-WANs do have weaknesses. They require more planning than a traditional WAN system and some monitoring systems might not be able to communicate with the SD-WAN service/appliance or properly interpret the address space that it creates.
Which three business problems does SD-WAN address?
Not all SD-WAN systems are equal. However, the SD-WAN process offers opportunities to bundle many services together. A good SD-WAN system will also include network security protection. Another advantage is that it can optimize speeds for different types of traffic traveling between sites. Thirdly, SD-WANs can easily integrate new sites because all of the addressing issues are solved by remapping them within the SD-WAN.
What layer does SD-WAN use?
Going by the OSI stack numbering, SD-WAN can operate on Layer 2 and Layer 3. Some experts explain this duality by labeling SD-WAN Layer 2.5 technology.
Does SD-WAN replace a VPN?
A VPN establishes a single connection across the internet and channels all traffic along that connection. An SD-WAN manages multiple simultaneous connections. It can use different technologies for each, including a VPN.