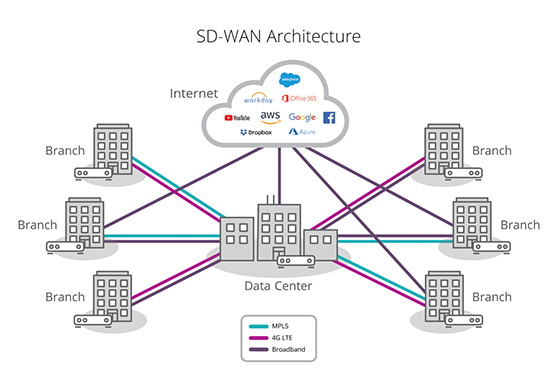 SD-WAN Cost & Pricing Guide
IT businesses, just like the technology they use, must constantly evolve and upgrade if they want to survive and prosper. This is why many companies have turned to the industry-defining network connectivity solution, SD-WAN.
Software-defined wide-area network (SD-WAN) saves companies time and money by offering a variety of network services in one secure, centralised system. However, like any new project or system, the initial costs can be quite significant.
Here's a breakdown of the cost of SD-WAN, along with a look at whether it's actually worth it.
Costs to consider when choosing an SD-WAN vendor
For many companies, the main priorities surrounding any new IT solution are:
Its overall performance
Its level of security
Its price
Today, we're focusing on the price, but you can learn more about the performance and security of Australia's best secure SD-WAN provider here.
When it comes to the cost of SD-WAN, there are many factors to consider. Every vendor is different, but they generally include the following elements in their overall pricing structure.
Upfront costs of SD-WAN
Infrastructure & Technology
Upgrading your infrastructure and technology can contribute a substantial amount to the initial cost of SD-WAN. Of course, this can change depending on such variants as:
The size of your network
How many locations do you have?
The number of data centres How many per location?
Usage of cloud applications
Have you already migrated or are you still planning to?
The state of your current infrastructure
Are you already set up for WAN?
If you can answer "yes" to the last two, your upfront costs will be significantly reduced.
Continual costs of SD-WAN
Bandwidth & Sites
One of the main things to consider when pricing an SD-WAN solution is growth. As your company grows, expect the cost of SD-WAN to increase as well. This increase in price is usually related to an increase in bandwidth and the number of sites.
Here are some of the ways your bandwidth and sites can alter the cost of SD-WAN:
Remote employees – Do you have mobile/remote employees who need to access your network?
The spread of your locations – Is there a large amount of distance between your locations?
Level of contact – Do your locations need to maintain constant contact?
The predicted growth of your company – Will you be adding more locations?
Security
Security and privacy protection are crucial for businesses using SD-WAN. There are many vendors who offer secure SD-WAN solutions that include basic security in the upfront costs. However, some vendors will charge an additional, ongoing fee for basic or upgraded security measures.
Security costs can be influenced by the following factors:
Your company's amount of sensitive data
The format of the data
How much data flows across your network
Your current and desired speed of this data transmission
IT Staffing & Management
When considering how much SD-WAN costs, management and staffing cannot be ignored. Fortunately, SD-WAN doesn't require much maintenance and what it does require can usually be performed in-house. However, there are certain factors that may mean you'll need to pay for more management and staffing.
If the below three points relate to your company, you may want to consider paying for specialised third-party management.
High number of locations and data centres
High number of remote workers and needs
Locations are spread out across a large area
SD-WAN Cost Savings
At its core, SD-WAN lets you optimise your network with improved performance, efficiency, stability and independence. However, what's really appealing about SD-WAN is how it can save you money.
Reduction in initial investment – SD-WAN requires less equipment and substitutes network edge devices with one appliance.
Less chance for error – Fewer pieces of equipment means that less can go wrong. Your network maintains consistency and you spend less on maintenance.
Fewer calls for help – Of the little maintenance required, most can be handled in-house, reducing your spend on outsourcing.
Zero-touch deployments – All setup processes for new machinery are automated using your company's device management system, eliminating the cost of IT staffing.
Multiple, flexible connections – SD-WAN supports the connection of remote locations even if they're using different connections. This load balance with multiple links provides better cost stability as your company expands.